About the Fox Run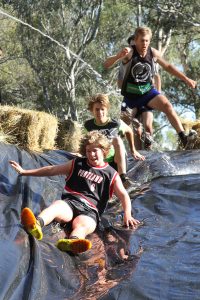 Now in its third year, the Milawa Oxley Fox Run is a family focused event with a foxy theme. It is a fun run with a difference, combining obstacles, mud and colour in a bush setting.
The course is designed to appeal to all ages and fitness levels with some fantastic prizes up for grabs. The main running events are the 2.5km, 5km and 7.5km Fox Runs. There are also plenty of kid's activities, novelty races, helicopter flights, food and market stalls plus the ultimate raffle. The Fox Drop raffle is where 200 toy foxes are dropped from the sky by helicopter with the closet fox to the pin winning $1000 cash voucher, plus lots of spot prizes to be won.
Spectators are invited to join the festivities with great views across the course, lots of other activities on the day including market stalls to browse, and a variety of food and beverages will be available from 8.30am until finish (approx 2.30pm). So whether you're a participant or a spectator there will be something for everyone.
The home of the Fox Run is the Oxley Recreation Reserve on the Oxley/Meadow Creek Road, 3.5kms south of Oxley. This Reserve is Crown Land and the ideal location to hold our event given its existing obstacles and beautiful bush setting.
Can you Catch the fox?
During the Fox Runs you will be chasing runners dressed as foxes that will head off ahead of the pack. There are foxes for different genders with a bounty on the fox tail & ears, so if you catch your fox you will receive a prize.
Milawa & Oxley Primary Schools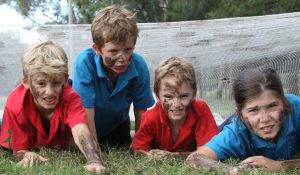 Milawa and Oxley Primary Schools are located in the Milawa Gourmet Region. The schools have a combined population of approximately 170 students.
The purpose of this event is to raise funds for the benefit of the students at Milawa and Oxley Primary Schools. This collaboration provides a unique opportunity for the schools to work together and create an event that aligns with the health and well-being focus of the schools.
Key Objectives
To raise funds for Milawa & Oxley Primary Schools
Encourage a stronger social connection with the Milawa and Oxley communities.
Provide school students with an opportunity for family fun and healthy outdoor activity.
Vision
To implement a family event that aligns with Milawa and Oxley Primary school's focus on health and well-being, and to continue building a strong connection with the broader community of Milawa and Oxley.